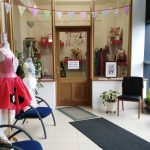 The Art of Sewing & Crafting
The Art of Sewing & Crafting is an independent School attracting students from all over the South East of Ireland. Our custom designed premises is only a 5 minute drive outside of Wexford town and can accommodate between 8 and 10 students at any one time, so you know that the class sizes are never too large.
Our aim is to teach students to use their sewing machines, understand fabric and garment construction, learn a number of different craft skills, build on their knowledge and skill of sewing and crafting and introduce them to this wonderful creative craft.
Internal certification sheets will be issued on successful completion of the structured courses available. The programs are not linked to any formal certification process.
Our tutors are the best in their respective field and have over 30 years experience working within the Fashion and Crafting Industry both in Ireland and abroad. Our tutors have worked in both design and manufacturing and have also run their own business in Garment Technology, Pattern Grafting and Crafting.
Each class of up to 10 students is entitled to 1 tutor at any all times, but on some occasions we will provide 2 to assist in the teaching. This is at our discretion and will not incur any extra cost to the students.
Experience of the tutor:
Trained on all models and makes of sewing machines
Garment Technology and Quality Control
Tailoring and Dressmaking
Pattern Cutting and Grading
Certification in Training & Development
Fetac awards in training which include Train the Trainer, Communications, Group Work Theory & Practice
Certification in Tutoring Skills for Adults
The Art of Sewing & Crafting on Tuugo Education Courses on Tuugo
Private lessons are available on request