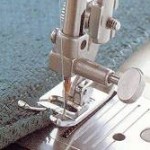 This Machine Sewing Beginners course will enable participants to develop the necessary knowledge and skill pertinent to those wishing to learn how to understand and use the modern sewing machine, or, as the first steps on the way towards working in the fields of Fashion Design and the Clothing Industry.  We will teach you that the machine is not something to be afraid of but a useful tool that will give you a skill to be enjoyed forever.
The program content is delivered in a highly participative and practical manner. A range of learning methods and approaches will be used to promote the practical application of theoretical concepts covered. The content is predetermined and must be followed closely. There is practice sessions for the learner with feedback provided each step of the way. Handouts will be provided to assist the learning.
Internal certification sheets will be issued on successful completion of the sewing course. This program is not linked to any formal certification process.
Course Aims
Candidates who successfully complete this course will be able to:
Prepare the sewing machine for use (wind a bobbin, thread machine, learn the components of the machine and what they are used for)
Develop the practical sewing skills necessary to operate the sewing machine correctly. (sew with guides, pivot corners, back-tack, zig-zag stitch, use the zipper foot)
Develop the knowledge and skills necessary for sewing simple projects (how to read a pattern, grain lines, transfer markings, cut out pieces, learn about fusing, seam allowances and seam finishes)
Use sewing work tools carefully, efficiently and safely
Operate and use the Sewing Machine competently and observe health and safety practices at all times during each process.