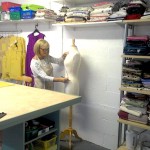 To take this Dressmaking course the student must have confident sewing skills and a good knowledge of the sewing machine. This dressmaking program will build on the knowledge gained from level 1 and 2, or will add to the dressmaking skills of the more advanced learner, it is also a good starting point if you are out of practice after years away from sewing. Another step on the way towards working in the fields of Fashion Design and the Clothing Industry.

Seven totally self indulgent evenings to get away from it all and sew. No interruptions, just plenty of help with you dressmaking from our class tutors, guidance and advice on hand whenever you need it. You can make whatever you like over the course, a dress, a skirt, a trousers, one garment or several garments, what ever you can fit in. This dressmaking is your course so make it special.  
Of course we will begin by showing you how to take your body measurements so you can adjust the pattern to fit you. The next step is to make a toile (mock-up) from the commercial pattern you supply or you can use one of ours, this will ensure that you have the correct fit before cutting into your fabric. After adjusting the pattern once more if needed following the fitting of the toile, you will then make up the garment in a fabric of your own choice. Plenty of tricks of the trade for fit and construction, techniques and professional finishes applied.

View more pictures in the Dressmaking Gallery.